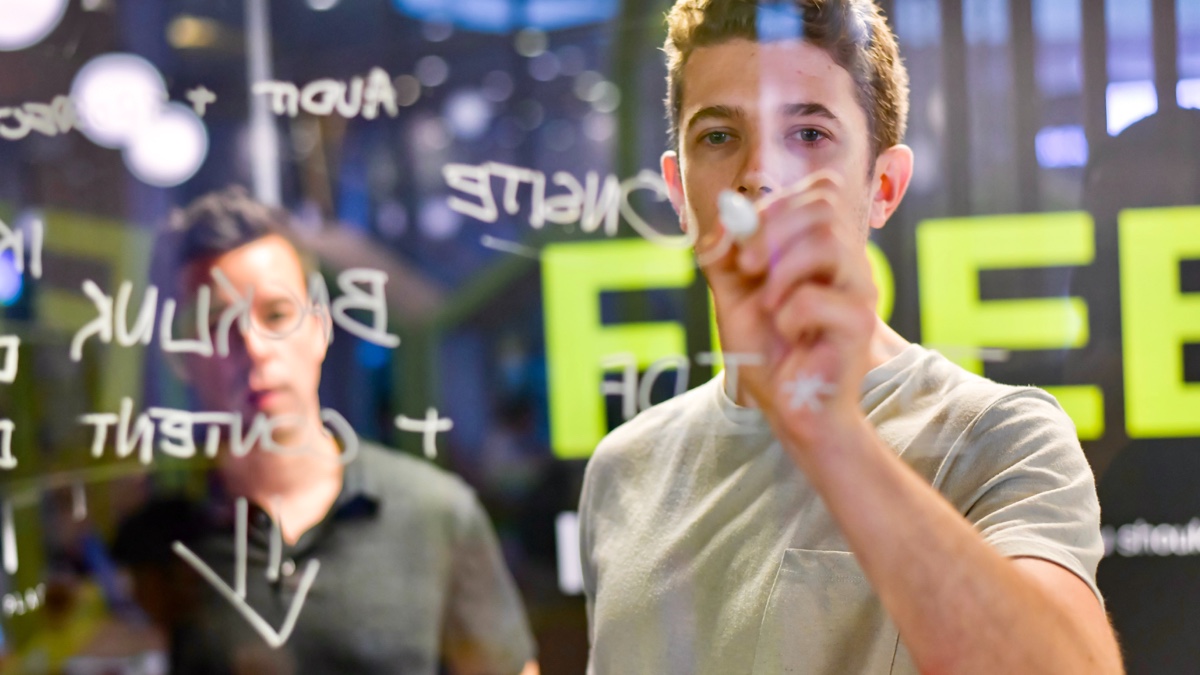 2020-03-21
What is Digital Marketing?
Digital marketing is an evolution of marketing that uses digital channels to accomplish the goals of traditional marketing. It has fundamentally transformed how we market products and services in the 21st century. Traditional marketing concepts still apply, with added elements of digital channels, social media, and other online activities.

Marketing (without digital) is "the action or business or promoting and selling products or services, including market research and advertising." - Dictionary.com. This is a safe definition of marketing, but it's almost too broad to be useful.

In HubSpot's article What is Marketing?, Carolina Forsley explains how frustrating it can be when the definition of marketing is such a broadly defined term. In short, digital marketing is the type of marketing that encompasses any form of digital channels that involves having to use electronic devices to promote and sell your business online.
There are basically two different types of digital marketing channels: Online and Offline. Roughly divided by their usage of the internet.
Online Digital Channels
Offline Digital Channels
Website Marketing
TV Marketing
Search Engine Marketing (SEM)
Search Engine Optimization (SEO)
Push Mobile Marketing
Mobile Marketing


Content Marketing


Email Marketing


Social Media Marketing (SNS)


Marketing Automation


The world wide web has been around for about three decades now, and digital marketing has evolved according to the shift in technology. However, Digital Marketing became more visible in the last ten years with the birth of Social Media. Some may say digital marketing began in 1971 when Ray Tomlinson sent the first email to himself. Some may argue that digital marketing began before the first email when Guglielmo Marconi invented the radio. Regardless of when it was invented, the real era for Digital Marketing is now.
So let's dig deeper into each category for online and offline channels of digital marketing. We'll look at :
Website marketing
Search Engine Marketing (SEM)
Search Engine Optimization (SEO)
Mobile Marketing
Content Marketing
Email Marketing
Social Media Marketing (SNS)
Marketing Automation
TV Marketing
Push Mobile Marketing
Online Digital Marketing Channels
Website Marketing
Website marketing is defined as marketing through your website to get more leads, build your brand awareness, or create a digital presence. Regardless of your goal, using a website to market is known as website marketing. Website marketing is integral to your digital marketing strategy. Your website is the first touchpoint for your customers and the face of your company.
Website marketing encompasses several marketing disciplines including SEO, Display advertising, etc. The scope of website marketing has deepened considerably and will likely continue to do so in the future.
Search Engine Marketing (SEM)
You've likely heard the acronyms SEM (Search Engine Marketing) and SEO (Search Engine Optimization). These two buzz acronyms pop up every time digital marketing is mentioned. Search Engine Marketing is marketing that uses search engine platforms like Google, Yahoo, Bing, etc. to market specifically in those engines. The keywords here are search engine. Search engines aim to help a user find something. Think about the last thing you Googled. Whether you were looking for a definition on digital marketing or just searching for a place to eat around you, you partook in SEM.

Basically, marketers use search engines to learn about their consumer habits and queries and create programs or campaigns to tackle those queries by providing the best possible answer. Further, SEM dives deeper into paid advertising or pay-per-click to gain traction by bidding into those specific keywords or phrases. Google Ads is currently one of the most known and paid search tools as it allows you to market on Google's search platform.
Search Engine Optimization (SEO)
Search Engine Optimization (SEO) is the process of getting organic traffic to your website. Organic traffic is the traffic that comes to your website without you having to pay search engines directly. SEO is another buzz acronym that has swept the digital marketing world. SEO is a subdivision of SEM and both work hand in hand to create one of the most powerful digital marketing tools.

In order to rank number 1 in Google for a specific keyword or key phrase without paying is one the most difficult task to accomplish for any SEO specialist. If your website is ranking number one for the keyword or key-phrase that you want to be known for, then your SEO is strong. There are many factors that contribute to creating and executing perfect SEO, some of which are:
Content
Architecture
HTML tag structure
Trust
Links
Domain Authority
Reputation
SEO is one of the most powerful ways to attract leads long-term without having to pay for advertising. SEO gets technical as you go in-depth; from whitehat SEO to blackhat SEO, and On-page and Off-page SEO. However, in the digital world SEO if done right has been proven to give the best ROI to the companies.
Mobile Marketing
Mobile marketing is marketing your business with mobile users in mind when designing your digital strategy. 80% of internet users own a smartphone. What does this say about mobile marketing? If we define digital marketing defined based on this statistic, mobile will be first and everything else would follow. This is true, especially if you are a B2C business. Every design that we make in our own office is mobile-first and the rest follows accordingly.

Mobile marketing is an omni-channel digital marketing tactic that uses mobile-friendly design to reach the target audience in their mobile devices.

Mobile devices include tablets, smartphones, and/or any type of other mobile device.

Mobile marketing becomes more technical as you build your digital strategy with mobile devices in mind. This is when UI/UX, App development, etc. come into play. Depending upon your company's goal, the mobile marketing strategy changes accordingly. However, mobile marketing is an integral part of digital marketing which should be a part of your overall digital marketing strategy.
Content Marketing
Marketing is impossible without great content and the same goes for digital marketing. Content marketing is a marketing strategy that involves creating resourceful, valuable, relevant content and ultimately distributing it through different channels to give value to the consumer. The goal of content marketing varies. Some might create contents to attract new customers and some might create content to close deals. Depending upon your goal, your content marketing strategy may differ. However, in order to transform your initial leads into customers and retain your users, you need to provide valuable content to foster trust. Customers are people. They understand when you care about them and offering valuable contents to help them grow their business will only lead to mutually beneficial relationships in the future.

In the digital world, content can come in different forms and some of those formats are as follows:
Blogs
Videos
Infographics
Case Studies
Social Media Posts
Podcasts
Webinars
Infographics
Ebooks
Presentations, Keynotes, etc.
Whitepapers
Digital Magazines
Newsletters
These are some of the forms of digital content marketing. We happen to use these in our everyday life, whether while browsing a website or surfing through your social media posts. As Bill Gates stated, "Content is King." However, not just content but the content that provides value to the consumer is the king.
Email Marketing
Communication has never been the same since the invention of Email. However, email marketing has become popular (sometimes too much so) in the past two decades. From the creation of the CAN-SPAM Act to marketing automation, email marketing has evolved on many levels. In its simplest form, email marketing is the type of marketing effort that marketers use to promote their business via email. According to Hubspot, 93% of B2B marketers use email to distribute content. More and more businesses are creating email marketing strategies as a core part of their digital marketing strategy. Some of the strategies that you might see as part of email marketing are:
New customer acquisition emails
Blog subscription emails
Follow up emails after a lead-generation campaign
Thank you emails after purchase behavior and service use
Social Media Marketing (or Social Networking Services SNS)
Social Media Marketing is using social media channels like Facebook, LinkedIn, Twitter, etc. to promote your business/product/service, drive traffic, generate leads, and build awareness. Digital marketing has shifted quite a bit with the increasing popularity of social media marketing. Some of the digital channels that you can use to market via social media are:
Facebook
Instagram
Twitter
LinkedIn
YouTube
Pinterest
Tumblr
Snapchat
TikTok
From simple posts to defined target marketing (paid advertisements), companies can now easily reach their specific target market with the help of Social Media. SNS channels collect data from their users and use that data to create rich profiles of their individual users. They then sell the ability to market advertisements to individual users based on those users' interests. As the SNS profiling algorithms continue to improve, each platform's users become easier to target. Therefore, SNS if done right can significantly change the outlook for your business.
Marketing Automation
Marketing Automation is a technology that automates marketing efforts in digital channels. We use it to implement campaigns across different channels to achieve business goals. Marketing departments use marketing automation software to eliminate repetitive tasks such as sending emails, social media postings, and ad campaigns to not only create efficiency but also to provide a personalized experience.

Implementing the right marketing automation strategy can dramatically improve and change the business's outlook. With the right tools and right marketing strategy, marketers or even sales teams don't have to manually push send on each and every email campaign, message or post created.
Offline Digital Marketing Channels
TV Marketing
Television Marketing (TV Marketing) is using television advertisements (commercials) televised to a wide range of target audiences in order to sell, promote or raise awareness via television. TV marketing is a tricky marketing channel because it can be classified as both a traditional marketing and digital marketing channel. Ads on television can rather expensive. Therefore, your TV Marketing campaign should be well-thought-out. There is still debate on whether to classify TV marketing as part of digital marketing or not. However, with the change of how consumers consuming media, commercials are now finding their way into digital strategies.
Push Mobile Marketing
Push mobile marketing is marketing which is done offline with the help of mobile application. Current mobile operating systems enable apps to push information to users as notifications. Push mobile marketing's goal is to keep your customers engaged and aware of your offerings when they are not directly thinking about your product or services.
Is digital marketing right for my business?
The short answer is YES. Digital marketing has been a part of our lives for quite some time now. The question you should ask is not if but which types of digital marketing strategies should you apply. Your digital marketing strategy will vary based on your industry, business model, and goals.

Depending on whether your business model is B2B, B2C, or B2B2C, your digital marketing strategy will vary. While you can still market your products and try selling your products online directly to your target audience, in the world of B2B, a phone call will usually make the final sale. Therefore, B2B digital marketing strategy focuses on quality lead generation activity for salespeople.